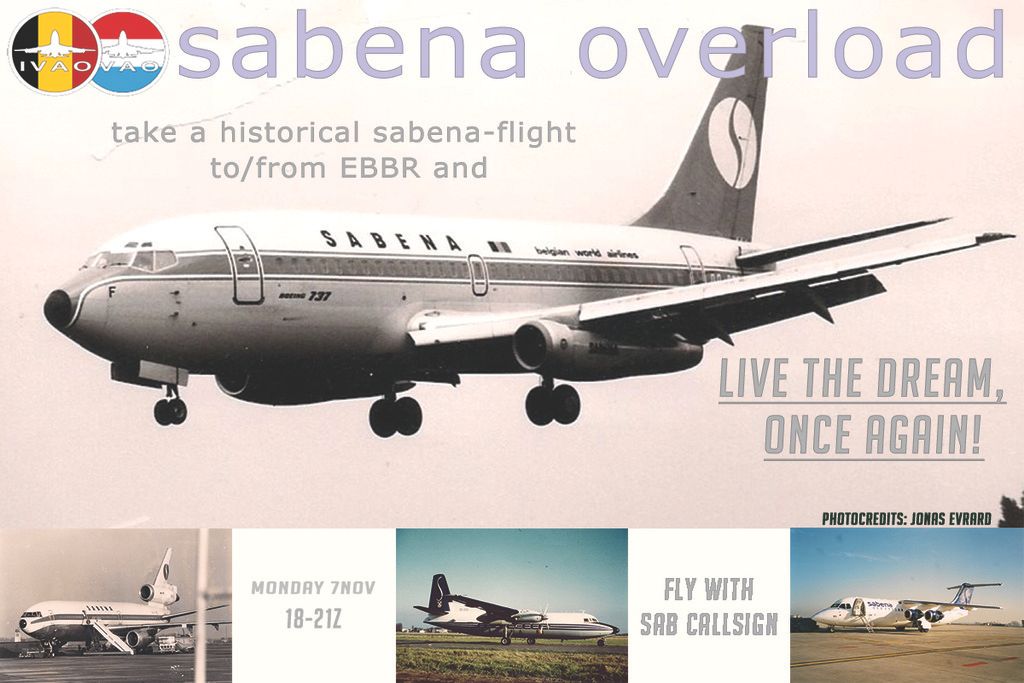 Background
7 November is a date which is carved in the memory of every Belgian aviation fan.  It is the date that the former national airline SABENA was declared bankrupt.  It was a history that started on 23 May 1923 and lasted for 78 years until 2001.  With the bankruptcy  of Sabena, Delta Air Transport restarted the
European flights of Sabena and merged together with Virgin Express to start the new company which  we still know today as Brussels Airlines.

Sabena had a lot of destinations which were served from the hub of Brussels Airport (back in the days
better known as Zaventem).  For this event we will bring the old SAB callsign back to live!  All pilots are to fly with SABXXX
with XXX being a number our a letter.  Since SAB is dedicated to another airline these days, put in your remark CS/SABENA,
that way the controller knows your callsign!
The last most popular European destinations are to be found on
this
website in the "destinations" section.
If you have troubles on finding the correct routing for your flight, you can always check the
IVAO database
to help you.
If you have any other program to help you with your routing, don't be afraid to use it!

The charts are to be found at our
FIR page
.  Copy them, print them or memorize them, but most of all USE THEM!
Extra scenery for EBBR is to be found on these pages:
For every reported flight you make as a pilot, you will receive 1 point for the Pilot event Award.
Fill out the
pilot form
and you will receive a manual reply with your current score on the list.
There is no need to book any flight, any flight you take is at your own free will!
All ATC participating in our event will receive 2 points for the ATC event award, only if they
report their controlling session via the
ATC form
.
The ATC request will be released on our
website
, with all instructions how to apply.
For our eventbanner, we are very thankful to the archive pictures of Jasper Evrard.  Pictures of this quality
for this age are hard to find, so special credits to him and his parents (who made them 
)
If you have an archive yourself, and you want to share it with us for future projects, feel free to contact
our EAC to discuss the terms.